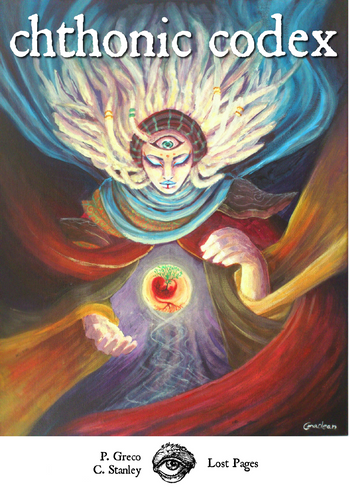 Chthonic Codex - PDF
Chthonic Codex - PDF
Regular price

Sale price

£12.00
Underground Magic Academentia! 
Mysteric Religions & Initiation Rituals! 
Magic, Murder and an iridescent lake of Mana Tar!
Chthonic Codex is about the dangerous world of fantasy academia, complete with drunken students, Devouring Idols, Initiation Rituals, crotchety Savants, and the Hypogea, a truly wondruous subterranean environment.
Play a magic academy student, a teacher, a stranger visiting the Hypogea. Find out that, despite the dangerous and scary subterranean environment, humanity is always the real problem.
Chthonic Codex is campaign sandbox setting for Swords & Wizardry, Adventure Fantasy Game, and other Old School games.
Dozens of new monsters and their role in the campaign setting.
New magic rules, mana-based system, completely new spell lists, spell research.
New magic schools: Fire Dervishes, Chimerists, Gatekeepers, Stargazers, Orthodox Necromancers, Artificers, Pharmacists, the Mysteric Chthonic Craft, and more.
New magic systems for all classes: join Mysteric Initiation Rituals! learn the hidden Laws of Reality!
Campaign creation and events, accomplishments, CHTHONOTRON (die-drop underworld generator).
Devouring Idols. They talk to you in your dreams, incessantly asking for their hunger to be satisfied, but at what cost?
New magic items, including many of scrolls
Reviews of the previously released boxed set edition:
"This is a unique and perhaps under-appreciated thing, quite unlike any other OSR product, that deserves more attention."

-- Patrick Stuart - False Machine

"There's a feeling that this a world on the edge and you've just walked through the door while university is almost in full panic mode. If your expecting Harry Potter's universe, absolutely forget it! This is the world that would have burned Harry's corpse, created a display for the ashes, then put them in some back corner to be used for a demon summoning later"
This is a PDF, and is not available for EU customers.
Couldn't load pickup availability